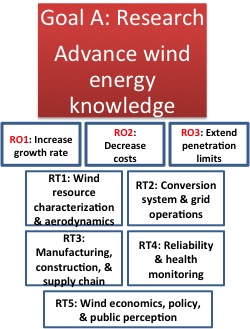 We will make substantive research contributions focused on accomplishing three interrelated research objectives (RO).
RESEARCH OBJECTIVE 1: INCREASE THE RATE OF WIND ENERGY GROWTH
The production of wind energy reduces reliance on fossil fuels and consequently reduces fossil-driven CO2 emissions, but a given CO2 reduction is more effective in mitigating global warming if made earlier than later. Wind energy growth rate will depend on cost (see RO2), but it will also depend on other factors, including government policy, public perception, our manufacturing base, and the rate at which local and national transmission is reinforced.
RESEARCH OBJECTIVE 2: DECREASE THE COST OF WIND ENERGY
At today's investment cost of $1837/kW, a 300-600 GW nationwide investment in wind energy would cost $550 billion to $1.1 trillion, with the higher number being about a third of the 2009 U.S. federal budget. Building wind energy to this level will occur only if investors can earn a return, an ability that depends on several factors, chief among them being the life cycle cost, the wind resource available and financing. We will explore all of these measures.
RESEARCH OBJECTIVE 3: EXTEND PENETRATION LIMITS
Limitations to wind energy build-out are largely dictated by operational issues associated with the power grid. These issues include maintaining enough rotational inertia to withstand generation outages, maintaining continuous balance between generation and load through regulation and load following, avoiding CO2 emission increase due to cycling of fossil-fired power plants not built for this purpose, and obtaining sufficient local and national transmission to move the energy.